GeoVision DVR Card - PC Based

You can turn any computer into a powerful Digital Video Recorder with a GeoVision DVR Card. Creating a state-of-the-art Video Surveillance System could not be easier. You will be able to record and monitor up to 16 cameras and utilize MPEG-4 H.264 compression, which is the most advance digital video compression technology available. This will enable the highest picture quality and video performance for any home, business or government CCTV security camera system. Video can be recorded based on schedule, continuously, or from motion detection.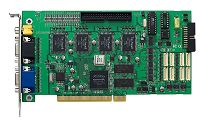 GeoVision DVR Card Product Line:

GeoVision GV-DVR Card is a CCTV surveillance system designed to process video, audio and data from local and remote network environments. With an endless list of special features and integration versatility, the GeoVision DVR card delivers powerful and streamlined operation performance as well as enhanced management.

GeoVision Hybrid DVR is the perfect choice for you, if you are you looking for IP cameras and CCTV cameras integrated all in one system. This answers needs for a transition from a legacy analog infrastructure towards a pure IP surveillance environment.

GeoVision License Plate Recognition is a digital license plate recognition system that utilizes Neural Network Technology of artificial intelligence to identify vehicle license plates.

GeoVision Network Video Recorder records all your video and audio over a TCI/IP network. It offers all the same functions as a traditional GeoVision CCTV Surveillance System.

GeoVision's Central Monitoring program includes several independently developed modules for GV-Center V2 Pro, GV-Center V2, GV-VSM, GV-Dispatch Server, and GV-Control Center.

GeoVision Video Analytics applications provide intelligent video processing to improve security and personnel efficiency. With the large amount of recorded video, they provide fast video retrieval and instant alerts in case of abnormal events.